Freestyle Script is an informal display script typeface that was designed by Colin Brignall in 1969 and Martin Wait in 1981, by Letraset. Freestyle Script is famously used for commercials in 1980's, birthday cards, decorative, logos and many others. The bold version was designed in 1986. The publishers of this font are Adobe, ITC, Monotype Imaging, Elsner+Flake, Esselte Corporation, Scangraphic Type, Linotype, Image Club, and Letraset. This font has the few versions, Regular, Bold, SH Reg Alt, and SB Reg Alt.[1] Freestyle Script font supports up to 78 different languages for cursive (plain), 33 different languages (Regular, Bold, Alt, etc.). The Cyrillic version of Freestyle Script was created in 1993, consists of the glyphs in Latin Supplement is in Cyrillic.[2] The font has been included in MyFonts since 2000.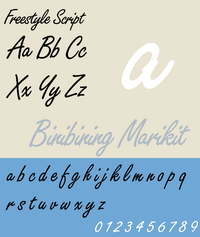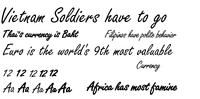 Freestyle Script was first designed by Colin Brignall in 1969, Martin Wait in 1981 for regular and cursive font, and one font designerTemplate:Who in 1986 for bold version. Several digital versions of bold version of Freestyle Script, they're lack of proper weight due to computer. In 1993, the fonts similar to Freestyle Script in all glyphs are called "VI My Ha Hoa" and "VI My Ha", the font are all caps and designed by VISCII Fonts in 1993. URW++ used to have a version named URW Fresnel in 1996, and it is similar to this font. In 2003, the Freestyle Script font was added to Microsoft Word, and it is continued with Microsoft Word versions Word 2007, Word 2010, Word 2013, Word 2016, Word 2019, and so on.[3][4] The font has in the TrueType font format.
The font Bradley Hand and other handwritten fonts (including Freestyle Script) were banned by opinion in the website Webdesigner Depot. It was posted in 2010. It was the top 8 of the banned fonts. The fonts, including Freestyle Script, were said to be "annoying". They are used by party invitations and giftshop signage. However, Freestyle Script wasn't banned by governments or design firms.[5]
In 2011, Brittany Sangastiano banned 50 fonts, including Freestyle Script. The issuing for the banned fonts was posted in BuzzFeed. The font was chosen for the general ugliness and its overuse. However, these fonts also weren't banned by governments or design firms.[6]
In 2018, a website called Illumine 8 was posted that the script fonts are ugly or worst. Freestyle Script was ranked as number fourteen of the worst scripts or handwritten fonts in the first round. Their letters of the glyph were ugly gaps for the characters.[7] Freestyle Script wasn't included in the following rounds.
The fonts that are similar to Freestyle Script like Lobster, Pacifico, Blacksword, Reklame Script and others are now used nowadays, these fonts are available in DaFont and some of the fonts like Signatra, a font designed in 2018, is similar to Freestyle Script Plain. However, Lobster font were also opposed due to no amateur.
These opposes are the opinion only and it was not true for banning fonts.
When the opposes said the worst, the reverse of this is best.
In the blog site The Creative Hustler, Freestyle Script was ranked as 29th of the best cursive fonts.[8]
It is widely used in 1980's-1995 and again in 2014 up to date.
The comparing of the versions of the font Freestyle Script:
References
Edit
Cite error: <ref> tags exist, but no <references/> tag was found